Bitcoin SV is the token created to restore the original bitcoin protocol and achieve high scalability as Satoshi had envisioned. The token started the year on a positive note, just like the rest of the crypto market. However, it failed to hold its levels during the May crash, leading to massive losses for the token.
Bitcoin SV has been on a steady level to recover some of its losses. BSV is trading at $157.79 on major exchanges at the time of writing after an 18.3% gain.
Bitcoin SV Price Analysis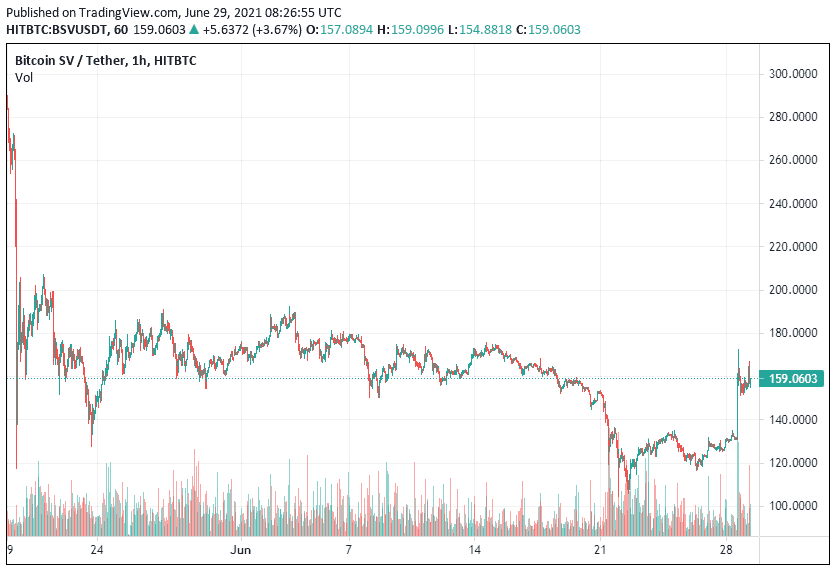 Bitcoin SV seems to be registering a bullish trend after trending at a high positive in the past 24 hours.  The immediate resistance is at $160, and if demand and marker support helps the token achieve these levels, a rally towards a high of $170 may be reported in consecutive days. Reaching such levels will instil investor confidence and rally support, pushing BSV to even higher levels.
In contrast, BSV may fail to hold these high levels, especially if there is no demand and market support. Going to higher levels may trigger selloffs from investors who want to offset their losses. In this case, we might witness retreats to below $150 and later $140. Sharp bears will be reported if the coin goes below $120, which will place investors at risk of great losses.
The Bitcoin SV technology has recently received endorsement from Eileen brown, a British technology journalist. According to Eileen, the Bitcoin SV platform offered complete transparency to its projects. In the interview with Coingeek, she also added that "They have no idea that [BSV] can scale and therefore each transaction costs proportionately less and uses less server cycles."
Furthermore, BSV is the latest addition to Zumo, a digital wallet and payments platform. The token is now compatible with Zumo wallets, where users can store and receive the token.
Such endorsements could prove beneficial for Bitcoin SV in the long term because they will boost demand for the token. It, therefore, makes a great option for those going long.
Where to Buy Bitcoin SV
To buy BSV tokens, you can create a crypto exchange account at the below exchanges:
One of the leading exchanges where one can buy BSV tokens is eToro. The exchange offers a wide range of tokens that a user can select from. Furthermore, it also charges low trading fees and user-friendly features.
The other exchange that supports BSV is OKEx. Opening an account on the exchange is a fast and easy process. Besides, the trading fees charged are highly competitive. OKEx also offers a wide array of crypto trading pairs.
Looking to buy or trade Crypto now? Invest at eToro!
75% of retail investor accounts lose money when trading CFDs with this provider