Cryptocurrency staking remains one of the most popular activities in the market. Many investors are attracted to the prospect of earning passive, low-risk incomes on their digital asset holdings, and the abundance of staking methods and mechanisms also makes this a very easy activity to perform.
With the market still looking to get over its bearish movement, a lot of investors would most likely prefer to stake their coins and not risk trading. To that end, finding the top crypto to stake and enjoy high yields will be crucial. We've listed some of the best options in this regard that you should watch out for.
1. Lucky Block (LBLOCK)
Our top crypto to stake is LBLOCK. Although this asset is not strictly a stakable asset, it offers interest to investors, making it a great option for passive market participants looking to earn yields on their holdings.
LBLOCK is the native token for Lucky Block – a blockchain gaming platform. The platform focuses on optimising transparency and fairness, offering access to an ecosystem of games. LBLOCK is used as an entry point into the Lucky Block ecosystem. Players use the digital asset to enjoy games.
LBLOCK, launched in January 2022, currently trades at $0.0014. The crypto asset is up by an impressive 27% in the past month, beating most coins despite the market downturn.
While investors can't stake LBLOCK, they can buy Lucky Block and earn interest. Built into the platform is a token distribution feature that allows token owners to earn a part of the 10% share of the daily lotteries. Holders simply need to connect to the app daily and make their claim to earn interest on LBLOCK. There is also a prize draw and non-fungible token giveaway going on across the Lucky Block ecosystem, with over $12 million in prizes and NFTs to be won.
Only 3 hours left! ⏰

Don't forget to buy your tickets 🎟️ Amazing opportunity to win the Lucky Block first daily draw! 🤞

👉 https://t.co/ZG3icHqoL0 pic.twitter.com/McilLoUydG

— Lucky Block (@luckyblockcoin) June 6, 2022
Lucky Block uses ticket sales to fund regular jackpots. Also, Lucky Block places a 12% tax on asset sales. The platform's developers estimate that this yield can go as high as 19.2% annually for those who hold up to $1,000 worth of LBLOCK for at least a year.
Although LBLOCK is not a staking coin, the digital asset remains one of the best ways for investors to earn interest on their crypto holdings today.
2. Ethereum (ETH)
Ethereum continues to grow in leaps and bounds. The digital asset started as a Proof-of-Work (PoW) coin but is currently in the process of transitioning into Proof-of-Stake (PoS), due to the Ethereum 2.0 upgrade.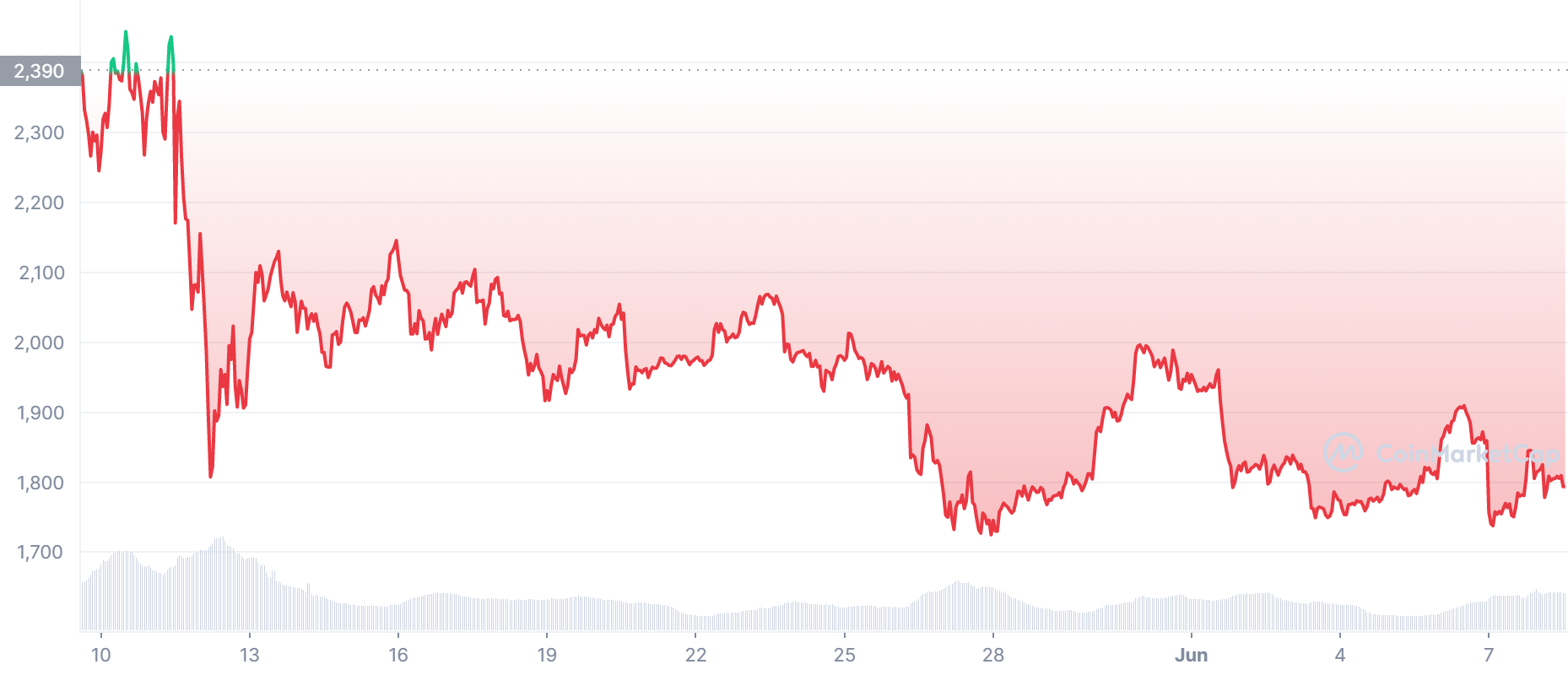 Today, ETH trades at $1,792 and has dropped by 27.34% in the past month.
Earlier this month, blockchain data aggregator Glassnode reported that the amount of Ethereum staked in its Beacon Chain had hit 12.6 million tokens – its highest level ever. The aggregator added that, in May alone, an additional 19,800 unique validators staked and came online. This depicts that more people are looking to buy Ethereum and stake it for passive income.
The total $ETH staked in the #Ethereum 2.0 contract continues to climb.

Over 12.764M $ETH has been staked by 398k unique validators. This is 10.73% of the circulating supply.

Since 1-May, 19.8k additional validators have staked, and come online.

Chart: https://t.co/kIzYCHntrU pic.twitter.com/z1ANTziXWu

— glassnode (@glassnode) June 2, 2022
ETH staking will require at least 32 units of the asset – a number which, according to today's prices, would be equal to about $57,500. To bypass this, we recommend joining a staking pool where investors can begin staking with however much they have.
3. Cardano (ADA)
Cardano's ADA token remains one of the top crypto to stake on the market. The digital asset has continued to see increased popularity, since last September when Cardano implemented the Alonzo hard fork and added smart contract functionality.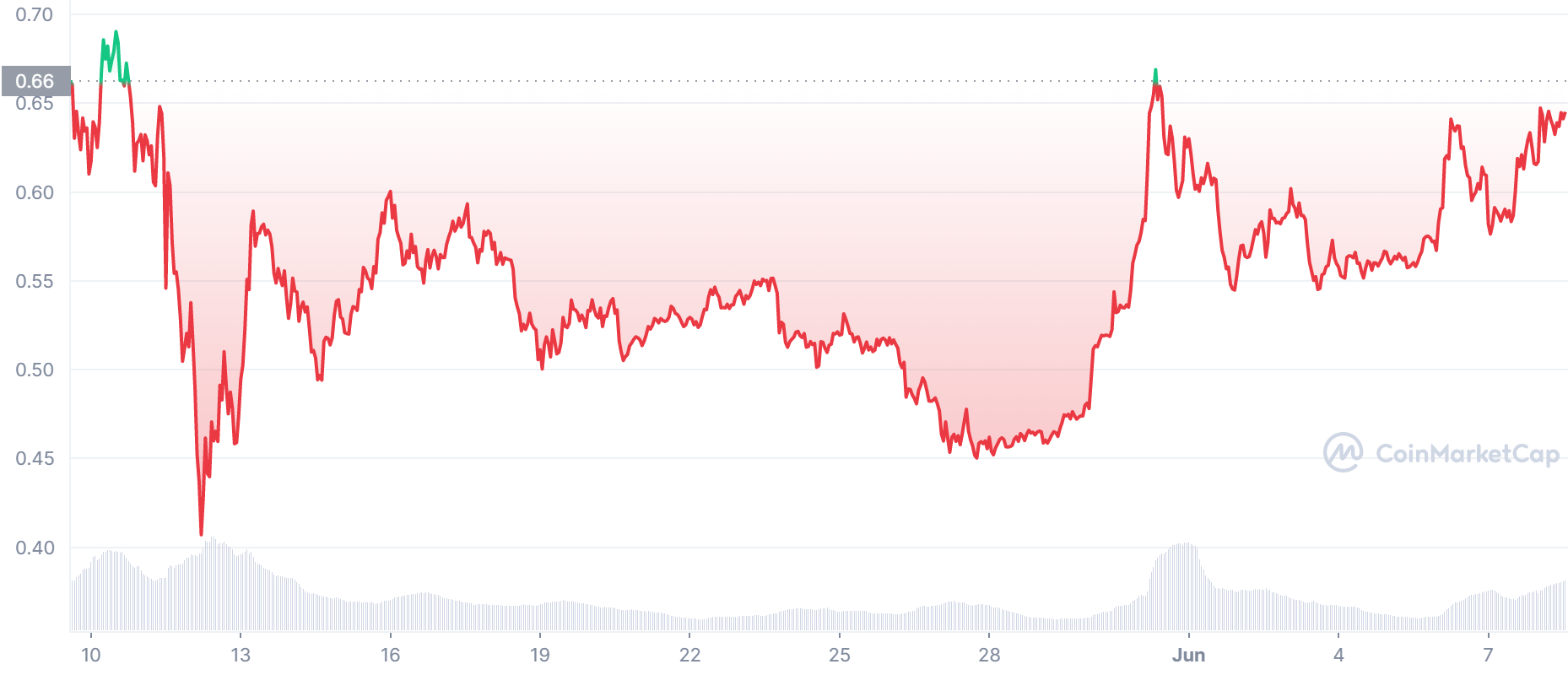 At the moment, ADA trades at $0.645. The digital asset is down by 2.27% in the past month.
Besides the fact that ADA has performed relatively well thus far, the digital asset continues to atgtaract investor interest. Cardano's developers are currently working on the Vasil hard fork, which they believe will optimise the blockchain's functionality and scalability even more.
Reference scripts reduce your transaction costs.

Currently, new scripts need to be included in each transaction.

With reference scripts, you can interact with the script through a reference, pushing it onto the chain.

➡️Interaction with a smart contract becomes minimal. pic.twitter.com/g8qVukL75W

— Input Output (@InputOutputHK) May 2, 2022
Among other things, Vasil is expected to reduce Cardano's transaction costs. This should be a major catalyst for the blockchain, bolstering its use cases and encouraging more investors to buy Cardano.
4. Solana (SOL)
Solana became popular in 2021 when the coin surged almost 10,000%. The digital asset's popularity is especially due to the growth of the Solana blockchain, which emerged as a top contender to Ethereum after Ethereum witnessed increasing scalability problems.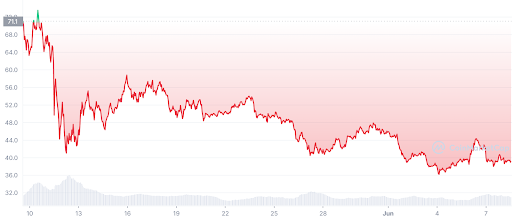 With its focus on efficiency and performance, Solana has become one of the premier blockchains in the industry. Currently, many investors are looking to buy Solana for its passive income-generating opportunity.
Trading at $39.71, SOL is currently down by 44.90% in the past month.
Investors can stake it and enjoy up to 7% in annual yields, depending on the staking platform they choose. And, with the Solana blockchain remaining hugely popular, investors can rest assured that they will receive impressive gains on their holdings.
5. Polygon (MATIC)
Polygon's MATIC token rounds out our list of the top crypto to stake.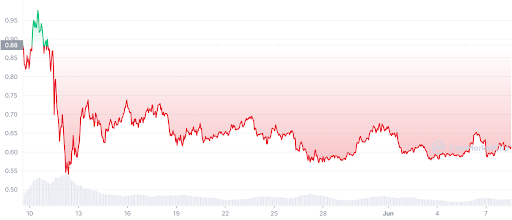 MATIC currently trades at $0.613. This price peg marks a drop of 30.34% in the past month.
Staking Polygon's native token works because the barrier to entry is low. Investors can easily buy Polygon. They only need a minimum of one token to stake and enjoy passive income. Looking to enjoy low-risk gains, staking this coin could be a great way to go.
Read More:
Lucky Block – Our Recommended Crypto of 2022
New Crypto Games Platform
Featured in Forbes, Nasdaq.com, Yahoo Finance
LBLOCK Token Up 1000%+ From Presale
Listed on Pancakeswap, LBank
Free Tickets to Jackpot Prize Draws for Holders
Passive Income Rewards – Play to Earn Utility
10,000 NFTs Minted in 2022 – Now on NFTLaunchpad.com
$1 Million NFT Jackpot in May 2022
Worldwide Decentralized Competitions
Cryptoassets are a highly volatile unregulated investment product. No UK or EU investor protection.