Layer-2 blockchain solutions have become more popular in the past year, with their promise of offering increased speed and cheaper transaction costs. This is why many investors are looking for the top layer-2 coins to buy right now.
With the market hoping to get out of its bearish run, there will definitely be a lot of attention placed on these layer-2 blockchain coins.
1. Polygon (MATIC)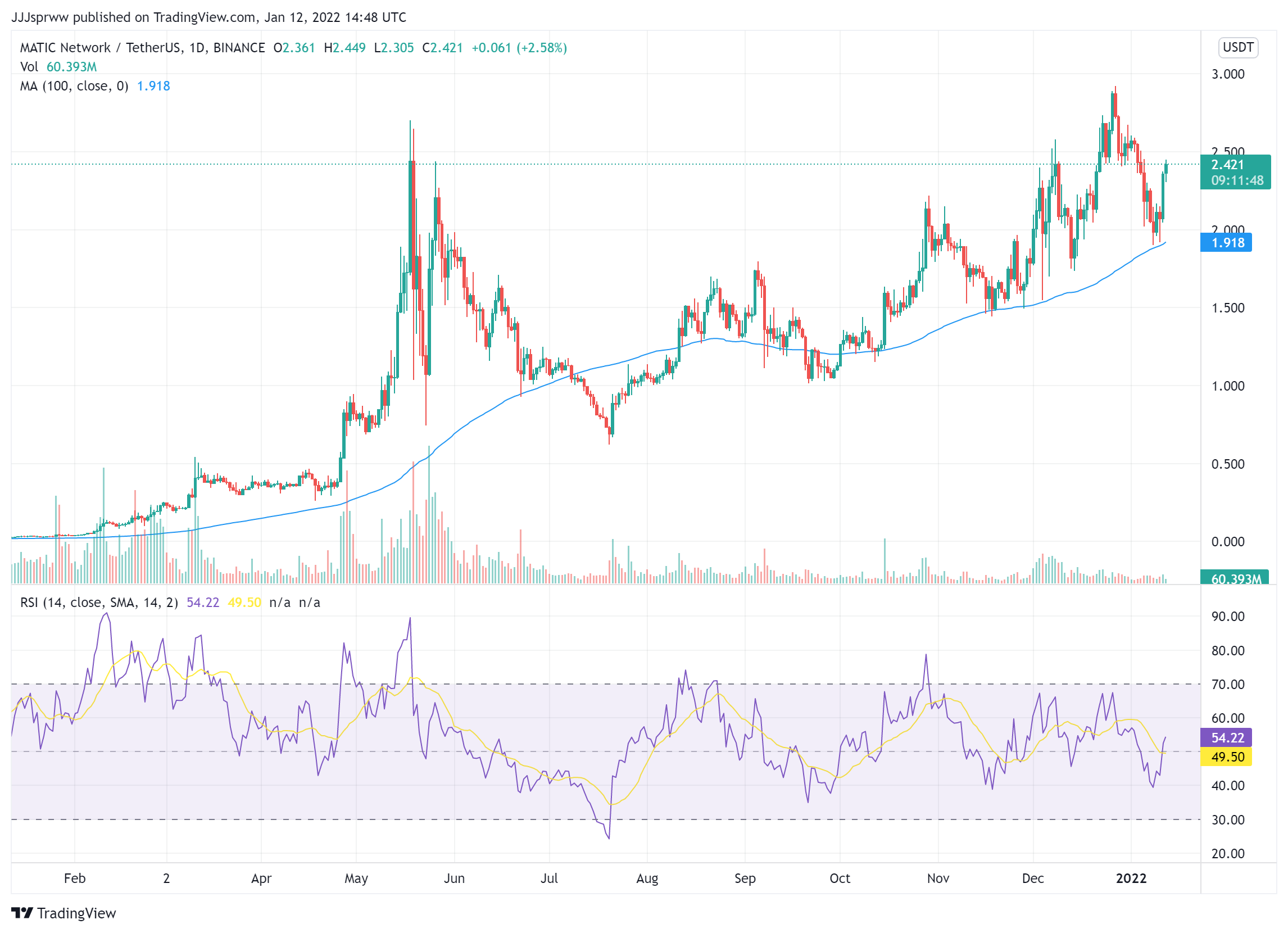 The first option on our list of the top layer-2 coins to buy is MATIC – the native token for Polygon. Formerly known as the Matic Network, Polygon is a blockchain scalability platform that facilitates the development and connection of blockchain networks compatible with Ethereum. It bills itself as Ethereum's "Internet of Blockchains," aggregating scalable solutions for a multi-chain Ethereum ecosystem.
For most crypto industry insiders, Polygon's MATIC asset doesn't need any introduction. The asset has become increasingly popular over the past year, thanks in no small part to the gains in its price.
The asset has many promising projects; most important is the fact that the platform is now becoming a hub for non-fungible token (NFT) activity. Just this week, the Associated Press launched a new NFT marketplace on Polygon, where the publishing house's photographers would be able to sell some of their iconic pictures as NFTs.
Data from Dune Analytics showed that the number of NFTs sold on Polygon hit an all-time high of 2 million in December 2021. That marked a 60% increase over the NFT volumes recorded in November, and December also marked the third consecutive month of increased network activity on Polygon.
The smart money will bet on NFT volumes on Polygon to surge even higher over time. If not for anything, the fact that the Associated Press is selling NFTs here is sure to draw traffic. This means that there is a lot of potential for MATIC to grow in the long term.
2. OMG Network (OMG)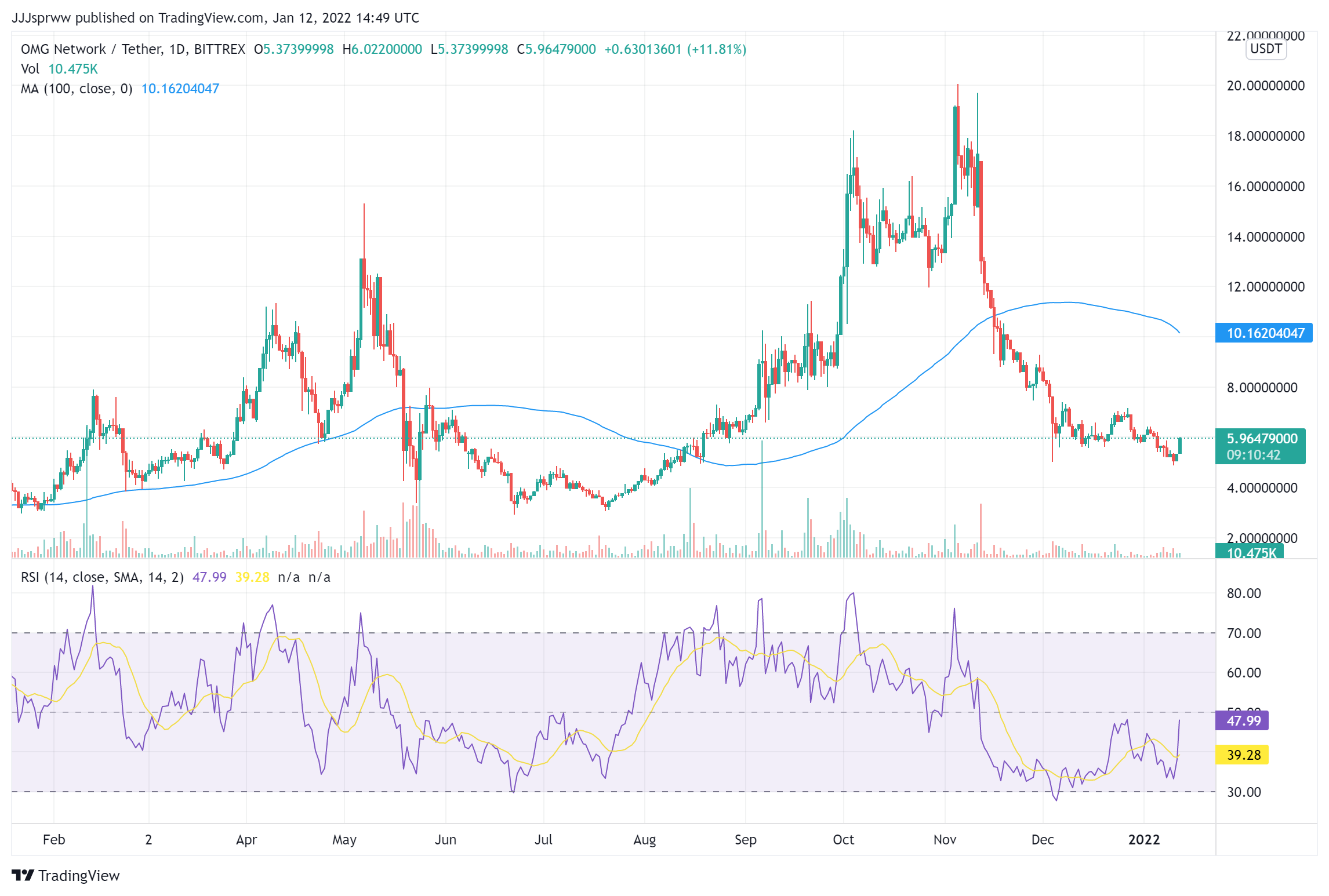 Next on our list of the top layer-2 coins to buy is OMG. The coin is the native token for the OMG Network – formerly known as OmiseGo.
OMG Network describes itself as the first production-grade layer-2 Ethereum calling solution. Its goal is to make it easier for people to move money and digital assets on the Ethereum blockchain, with greater speeds and lower transaction costs – while also maintaining optimal security.
OMG Network operates on the belief that most digital payments occur today via single apps. This means that users aren't seamlessly moving money between platforms. OMG Network looks to leverage its infrastructure to trade assets on users' behalf, sourcing liquidity for trades and transactions on the Ethereum blockchain.
With the broader crypto market looking to get out of its bearish rut, OMG appears to be one of the coins leading the charge. The asset's price of $5.96 is up 14.15% in the past 24 hours, beating the market's recovery of 4.32%.
OMG boasts a market cap of $852 million, with a $405 million trading volume in the past 24 hours.

3. Loopring (LRC)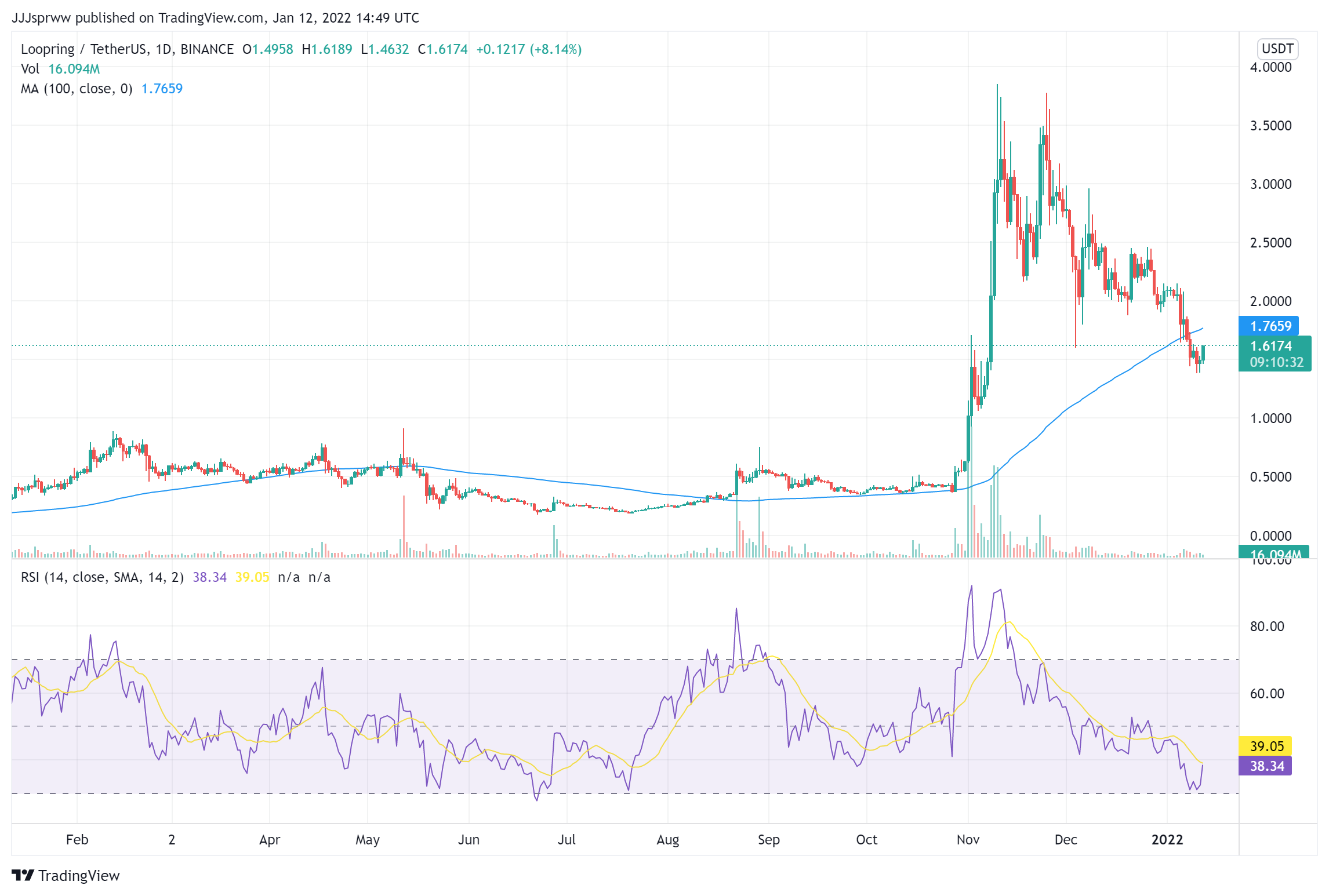 While it might not be among the large-cap coins, Loopring's LRC token is packing quite a punch right now.
LRC powers Loopring is a layer-2 software running on Ethereum that aims to support the creation of new crypto-asset exchanges. Loopring has made some bold claims, including the fact that its platform will allow exchanges to build on it and sidestep the issues faced by Ethereum-based decentralised exchanges (DEXs) – notably, slow transaction speeds and high fees.
Loopring uses zero-knowledge rollups (or zkRollups) to allow its exchanges to optimise trade settlements. Instead of settling trades on the Ethereum blockchain, zkRollups allows Looping-based exchanges to handle these tasks elsewhere.
Although not the loudest of layer-2 protocols right now, Loopring has been doing pretty well over the past few months. The platform's LRC token was recently added to the trading platform Public, and there was some recent hype surrounding a possible partnership with GameStop. However, nothing has materialised on that front.
Loopring recently announced that its platform can now allow users to mint NFTs for just $2.50 – about 100 times cheaper than minting on Ethereum. With NFTs still being a hot-ticket item in the market, there is a lot of potential for Loopring.
4. Bancor (BNT)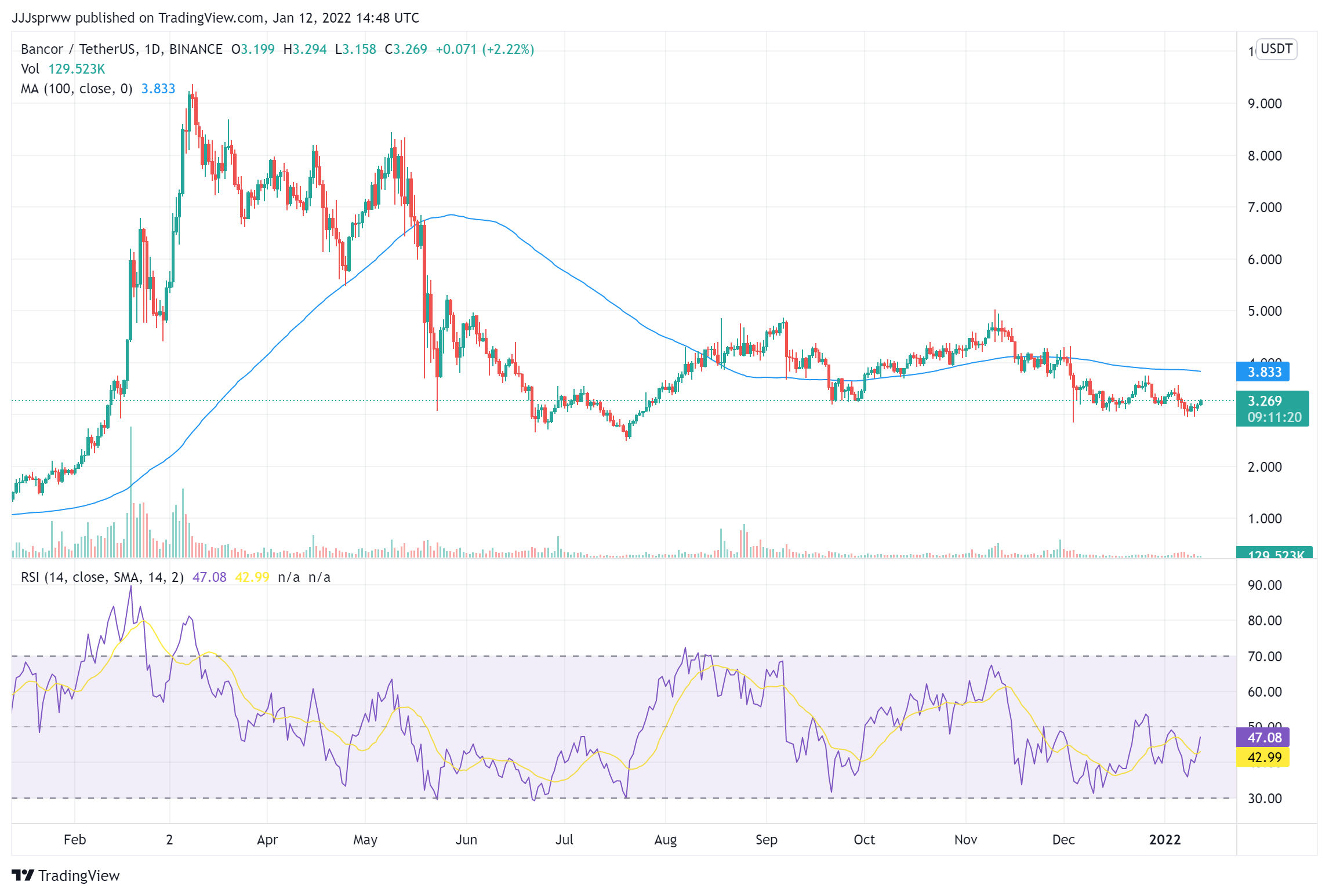 BNT is one of those tokens that you don't hear from daily. However, it has done enough to earn a place among the top layer-2 coins to buy.
BNT is the native token for Bancor – a software that incentivises users to offer liquidity to DeFi protocols. It is attempting to facilitate the operation of automated market makers (AMMs), where investors provide liquidity to DeFi markets in exchange for fees and interest.
Bancor is currently built to work on the Ethereum and EOS blockchains. But, additional chains could always be added over time.
With a current price of $3.26, Bancor's BNT token is up 2% in the past 24 hours. That's very competitive with the market. But there is a lot of upside to this coin. DeFi is set to grow significantly this year, and Bancor will have a role to play in that. There was a recent proposal in the SushiSwap community about a possible merger with Bancor. If a DEX like SushiSwap can recognise the potential in Bancor, investors should too.
5. OX  (ZRX)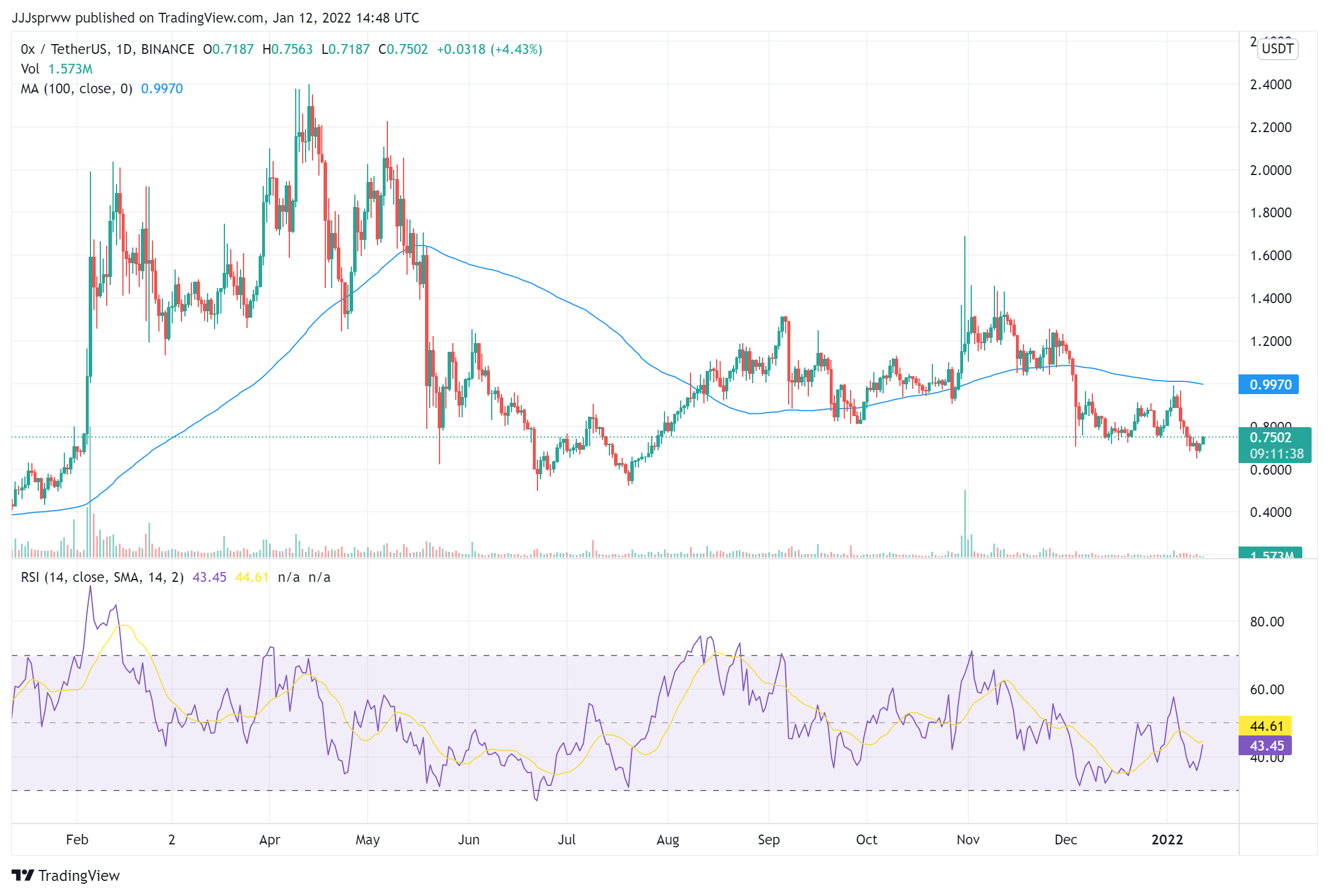 Rounding up our list of the best layer-2 coins to buy is ZRX- the native token for 0x. The asset is a tool that allows for the seamless peer-to-peer exchange of Ethereum-based assets. The platform, built by 0x Labs, offers secure and audited smart contracts, developer tools for its ecosystem, and a decentralised global peer-to-peer order book. As a native token, ZRK is used to pay fees and settle transaction costs.
ZRX is one of those coins with a lot of potential for the future. If you're a long-term investor, this is something for you. The asset trades currently at $0.750 per unit, up an impressive 6.5% in the past 24 hours.
Read more: