Following a two-day slump, markets are back in greens. As the bulls return, savvy investors are on the lookout for the best cryptocurrency to buy. Many expect this rally to continue into the next week, and it will be good to get your strategy straightened out as you go forward.
Below, we'll look into some of the options that qualify as the best cryptocurrency buy going into the third week of the month
1. Bitcoin (BTC)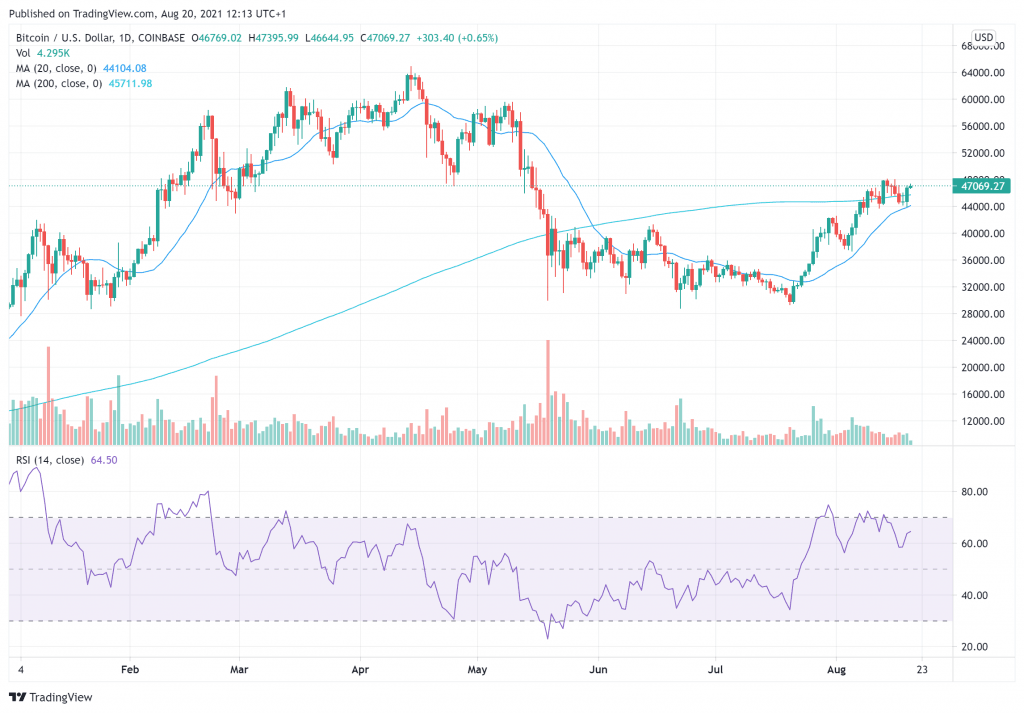 Kicking off our list is Bitcoin – the largest cryptocurrency by market cap. Bitcoin has come a long way from its inception in 2008, becoming one of the most valuable assets in the world for investors. Interestingly, Bitcoin also remains the best cryptocurrency to start your investment journey. It is relatively more stable than many other coins, so it's a good launchpad for newbies.
Bitcoin's allure is not new. The asset is the first to get adoption, and it is beloved by all. With the current market rally, Bitcoin is also looking more attractive. Its price is currently $47,086 – up 6.2 percent in the past 24 hours and 1.3 percent in the last week.
Bitcoin's technicals are also quite strong, with the leading cryptocurrency holding strong above its 20-day moving average (MA) of $44,064. It crossed its 200-day MA of $45,805 earlier today, signaling that its two-day slump is most likely over.
Bitcoin's relative strength index (RSI) stands at 64.95, which is pretty good for any cryptocurrency – much less Bitcoin. Everything seems set for the leading crypto asset to challenge the $50,000 resistance over the weekend.
Your capital is at risk
2. Ether (ETH)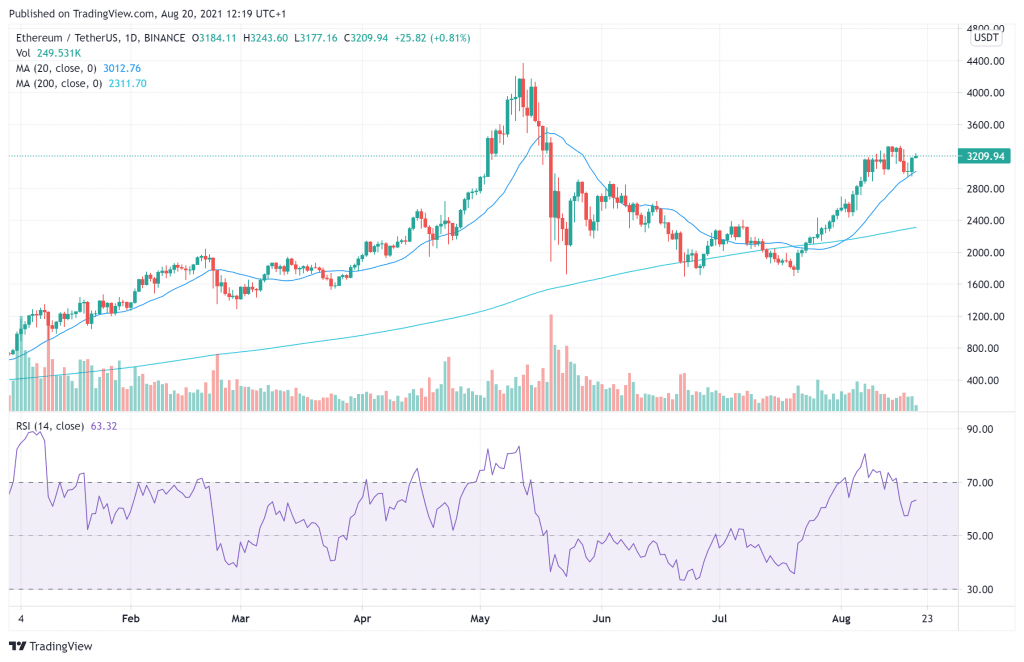 Ether is the silver to Bitcoin's gold. The second most valuable cryptocurrency by a mile, Ether is the best cryptocurrency to help developers and builders looking to make their mark. Ether has enjoyed a great deal from its affiliation with the Ethereum blockchain – the latter of which continues to get adoption from areas like decentralized finance (DeFi) and non-fungible tokens (NFTs).
The current ETH rally continues into Friday, with the coin currently trading at $3,210 – up 7.2 percent on the day and down 0.97 in the past week. The asset has largely been a spectator as the rally unfolds, with not much in terms of the news.
But, Ether continues to enjoy its popularity. If the crypto market will continue to rally, so will ETH's price. The asset has comfortably crossed its 20-day MA of $3,022, and its 200-day MA of $2,317 is even further behind it. With an RSI of 63.58, ETH still looks grossly underbought.
As stated earlier, there's nothing much in terms of fundamentals. ETH is still reeling from the successful implementation of Ethereum's London hard fork, which will take the blockchain one step closer to its objective of being a proof-of-stake (PoS) chain.
Your capital is at risk
3. Cardano (ADA)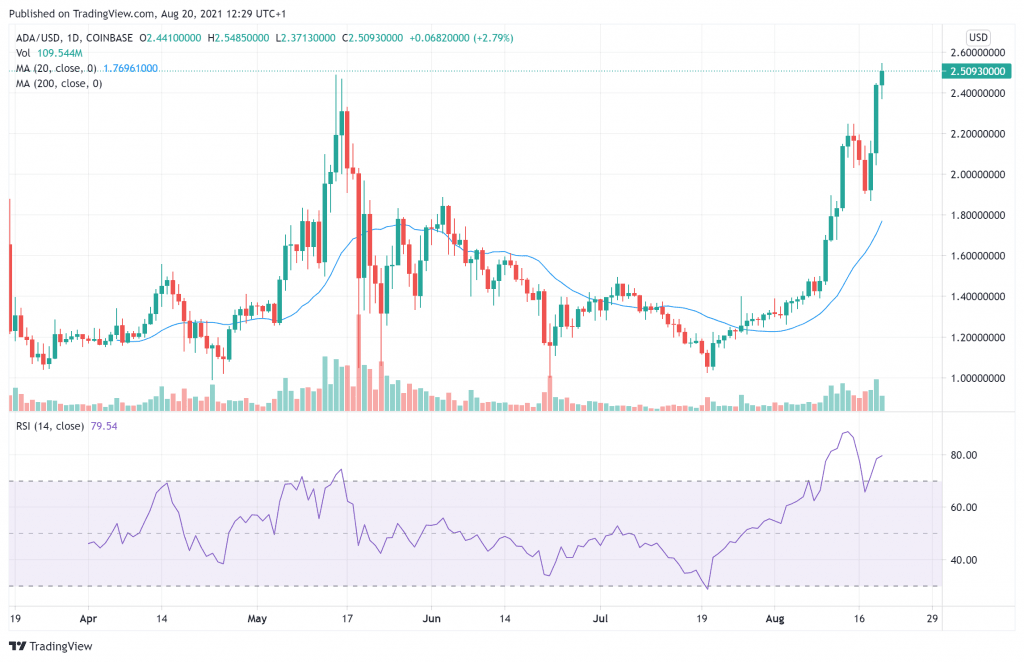 Cardano is one of the most popular public blockchain platforms in the crypto space. Its native token, ADA, is used for fee payments, transactions within the ecosystem, and more. However, with impressive price gains this year, ADA has also become a candidate for the best cryptocurrency to invest in.
ADA is perhaps the best performer on this list. The asset has seen massive gains this month, with its current price peg of $2.51 being a gain of 19 percent in the last 24 hours – and an even more impressive 22 percent gain in the past week. At press time, ADA has leapfrogged Binance's BNB to become the third most valuable cryptocurrency.
There are several pointers as to why ADA has been surging. However, there appears to be an intense activity with the asset as Cardano's developers announced an upcoming upgrade. Named "Alonzo," the upgrade is expected to deploy smart contract functionality to the Cardano blockchain. Alonzo is expected to come up in mid-September, and it will make the Cardano blockchain a direct rival to Ethereum.
With more investors expecting a seamless deployment, ADA's price has gained in anticipation. The coin is now trading above its 20-day MA of $1.76, and its RSI has climbed to 78.92. With ADA now setting a new all-time high, the market will look to see how long the coin rides its wave.
Your capital is at risk
4. XRP (XRP)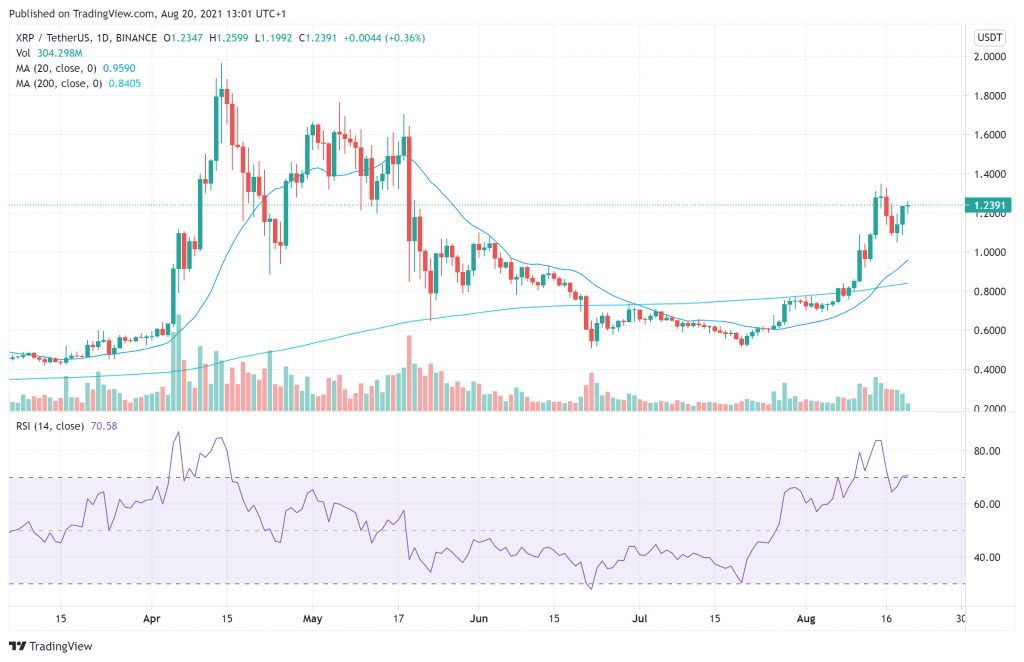 XRP remains arguably the best cryptocurrency to use for payments and cross-border remittances. Even despite an almost year-long case between its developers – Ripple Labs – the Securities and Exchange Commission (SEC), XRP has seen some massive gains this year.
After dropping below the $1 mark in May, XRP is back above the line again and making pushes. The coin's price is currently trading at $1.24, up 12 percent in the past 24 hours and 19.2 percent in the past week.
The lawsuit remains a significant one for Ripple, with the SEC now demanding communications between some of the company's top employees and executives on the popular messaging platform Slack. The market will continue to watch and see how well Ripple Labs manages to wriggle out of this one.
As for XRP's price, it remains technically strong. XRP's RSI stands at 70.77, showing that it is pretty underbought for a cryptocurrency. The coin is also trading above its 20-day MA of $0.95 and 200-day MA of $0.88.
Your capital is at risk
5. Polygon (MATIC)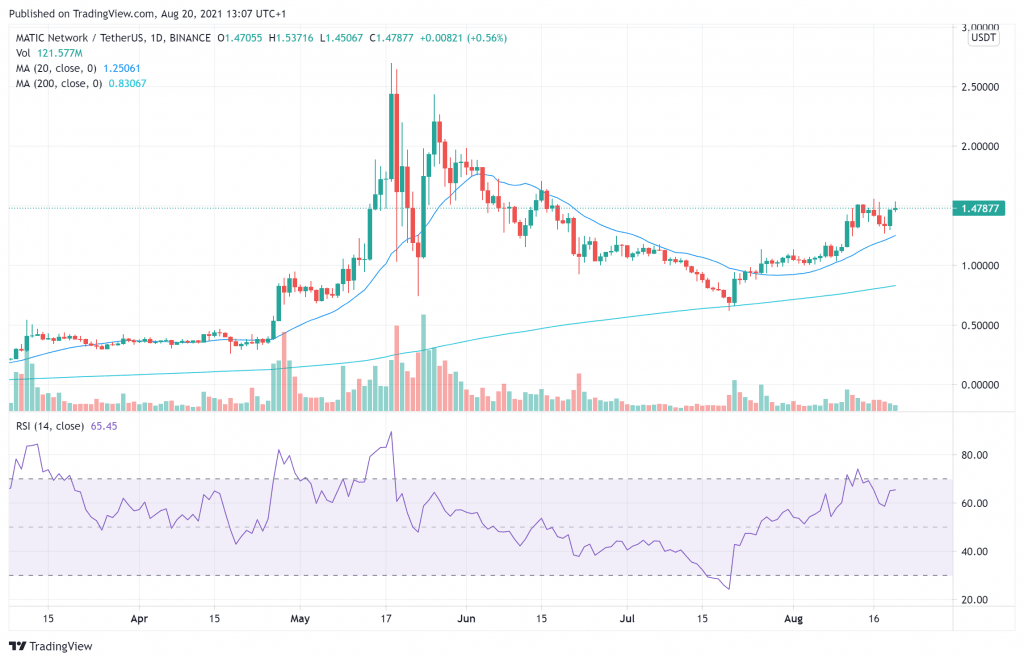 MATIC is the native token for Polygon – an interchain scaling solution for different blockchains. MATIC's growth has been quite impressive in the coming days, especially with Polygon now working to expand its ecosystem significantly.
Last week, Polygon announced the acquisition of Hermez Network, a zk-rollup tool, for $250 million. Two days ago, the company announced that it will move into the decentralized finance (DeFi) space with the creation of a decentralized autonomous organization (DAO)
Polygon's expansion – especially into the DeFi space – marks a significant move for the company. It has also helped MATIC, whose $1.49 price peg is up 13 percent in the past day and 5 percent in the past week.
MATIC is doing well, trading above its 2-day MA of $1.26 and 200-day MA of $0.82. With an RSI of 65.93, the asset looks set to challenge the $4.75 comfort level.
Your capital is at risk