The Metaverse is predicted to be a billion-dollar industry in the coming years, this is why more and more crypto enthusiasts are been drawn to this domain of the blockchain technology. The current digital era demands a fully immersive 3D world wherein a parallel digital economy will exist and this is possible only with the Metaverse.
Being in its early stage now, it is the right time to invest in Metaverse now. We have provided a list of 10 top-performing Metaverse Cryptos in this article.
10 Top Metaverse Cryptos based on 7 Days Price Movement
1. DeapCoin (DEP)
DEP is the utility token of the DeFi platform DeapCoin, which is an NFT marketplace and a digital entertainment platform built on Blockchain. It features the digital "PlayMining" platform where users can play various online games, read manga (comic/graphic novels), earn DEP coins as rewards and enjoy various other forms of entertainment.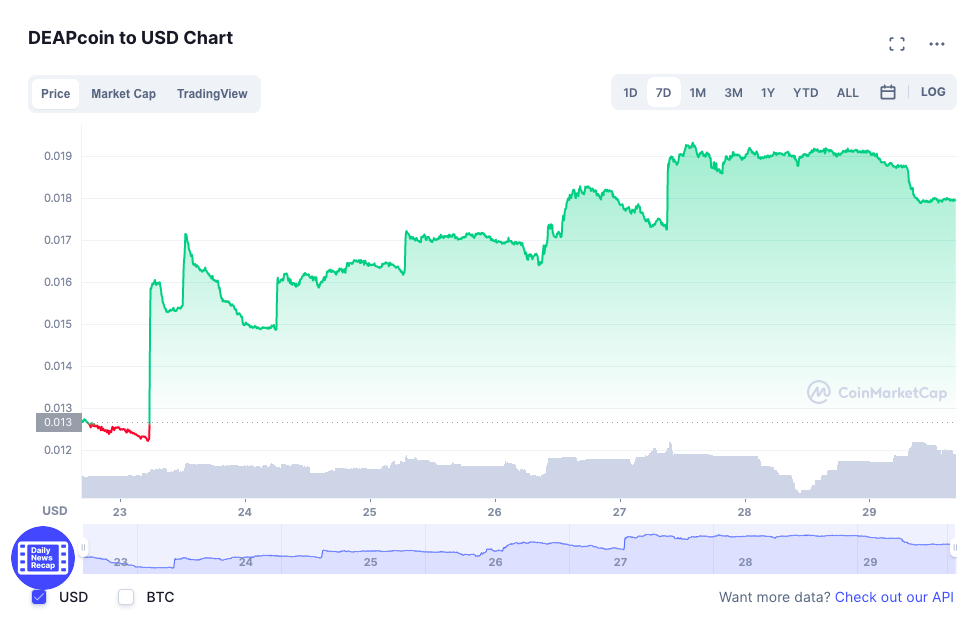 The team of DeapCoin has recently announced their first-ever artist collaboration for its upcoming NFT digital idol project titled "Project B-idol". They are collaborating with "INMI" to launch a limited collection of music NFTs.
The coin has shown tremendous growth in its price in the last 7 days and currently trading at a price of $0.018. The current market cap is $90,338,524 and 24h trading volume is $14,056,575. It has 5.02B coins in circulation and a maximum supply of 130,000 million coins.
Your capital is at risk.
2. WEMIX (WEMIX)
WEMIX is a game development platform built on the Blockchain. It provides the necessary infrastructure for game developers to build blockchain games. The advantage of using this platform is low gas fees and high transaction speeds as compared to other blockchain protocols.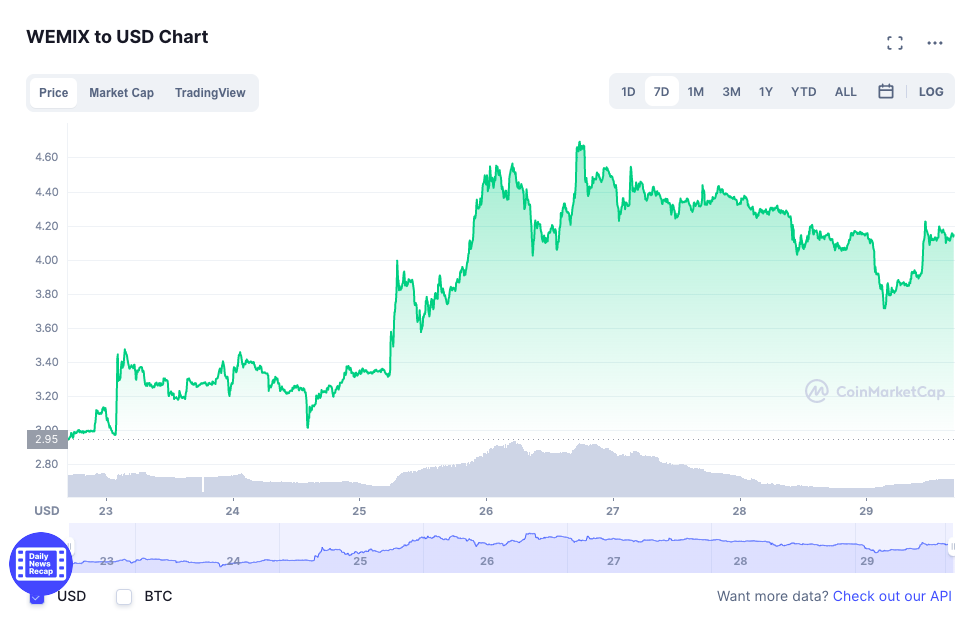 WEMIX is the utility token used for performing transactions across the WEMIX platform. Holders can stake it within the platform for rewards. Game developers can also enjoy various benefits throughout the game development process in exchange for WEMIX coins.
You can buy WEMIX for a price of $3.93 per coin. Its last 24h trading volume is $164,608,339. As on today, its market cap is $484,851,683. There are 123,233,682 WEMIX coins in circulation at present and the max supply is limited to 1,015,055,200 coins.
Your capital is at risk.
3. ELEMON (ELMON)
ELEMON is an NFT-based gaming platform built on the Blockchain. This highly innovative game is inspired by the mysterious world of Elematris. The game features unique characters by the name "ELEMONS", each of which possesses different attributes. These characters fight battles to regain world peace and earn game victory and glory.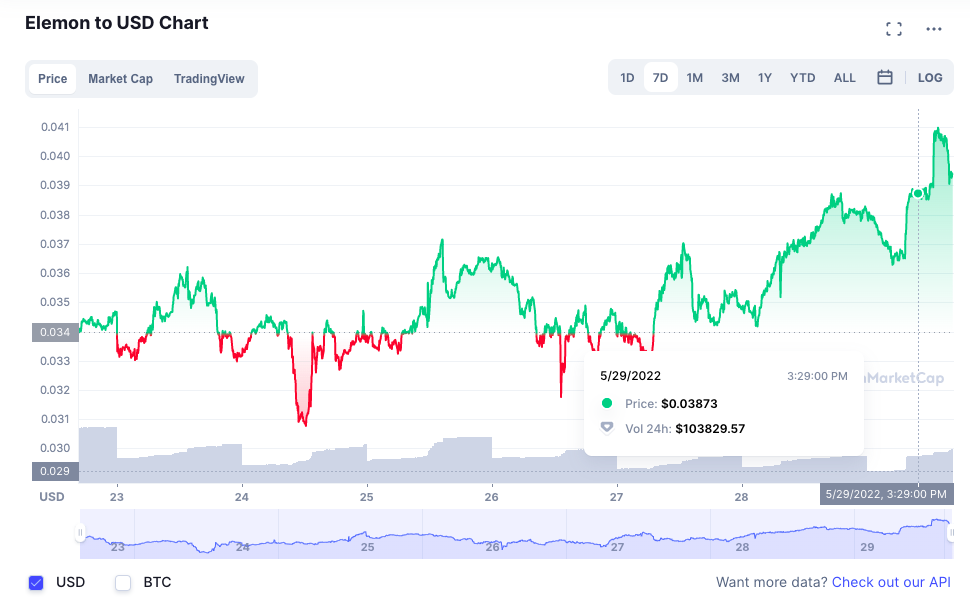 The platform uses the combination of NFT technology and IDLE RPG. The IDLE technology enables players to earn a high income without wasting much time with just a few simple steps.
The primary utility token is ELMON, which is used as a currency within the platform. It is also used for farming Points to redeem NFT.
ELMON is currently trading at a floor price of $0.03873, with a 24-hour trading volume of $0.10 million. It currently has a market capitalization of $3,651,576. It has 94,275,000 coins in circulation and a maximum supply of 2,000 million coins.
Your capital is at risk.
4. ONOOKS (OOKS)
ONOOKS is an Open Finance Protocol Network and Decentralized Scalable Smart Contract Application that aims to serve as the core infrastructure for building integrated and interoperable DeFi and open finance applications.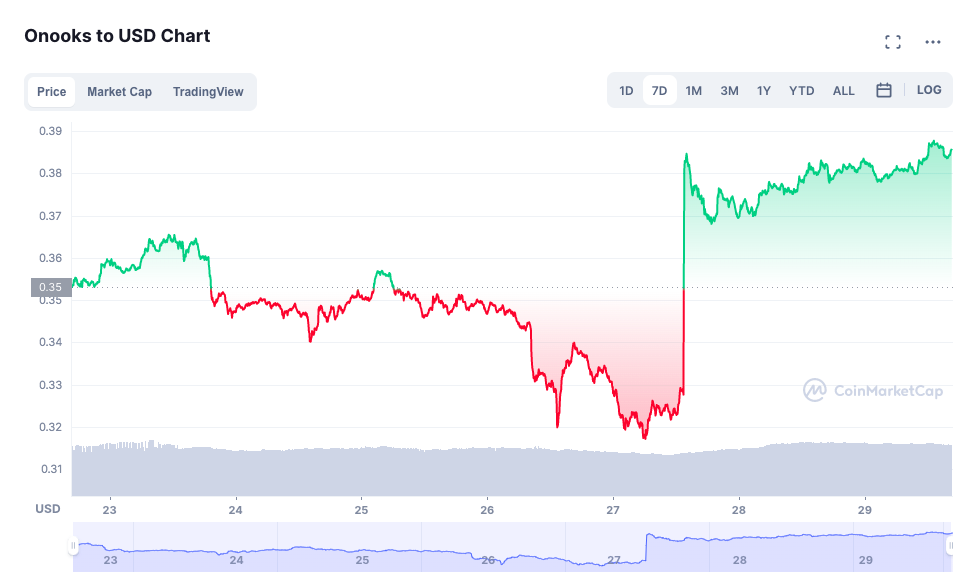 OOKS is it native utility token that is used for performing all the mainstream transactions within the platform. It is listed on some major exchanges like CoinMarketCap, LiveCoinWatch, Coingecko, TradingView, etc.
Currently, OOKS coin is being traded at a price of $0.38, with a 24-hour trading volume of $0.10 million. It currently has a market capitalization of $4,164,381. It has 10,927,954.6 coins in circulation and a maximum supply of 12 million coins.
Your capital is at risk.
5. Medacoin (MEDA)
Medacoin is launched by Medabots, which is a blockchain-based play-to-earn game wherein players can use the game's element to build robots. It also hosts a separate NFT platform wherein NFTs can be minted and bought.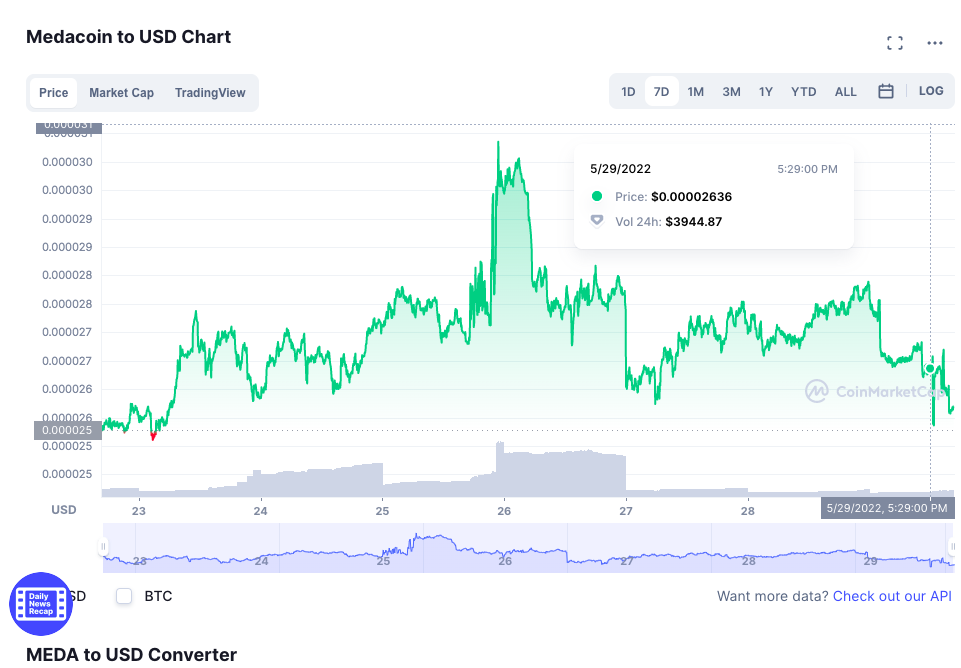 "MEDA" is a BNB token, which will be the native currency of the Medabots NFT Marketplace. It can also be used to purchase in-game items, enter live tournaments, mint Medapart NFTs, and will serve as the native coin for all future games of the platform. The token can also be used for purchasing physical Medabots merchandise.
The coin which is quite new in the market has a very low market price of $0.00002674 and a 24h trading volume of $3,372. The market cap is $2,118,955. There are currently 79.24B coins in circulation with a total supply of 100,000 million coins.
Your capital is at risk.
6. DeRace (DERC)
DeRace is a blockchain-based racing horse platform, which allows for owning and breeding of NFT-based horses. They can then be placed in race tournaments or simply be resold for profits. Players can also own hippodrome and host race tournaments. It also allows users to bet on real-time horse races.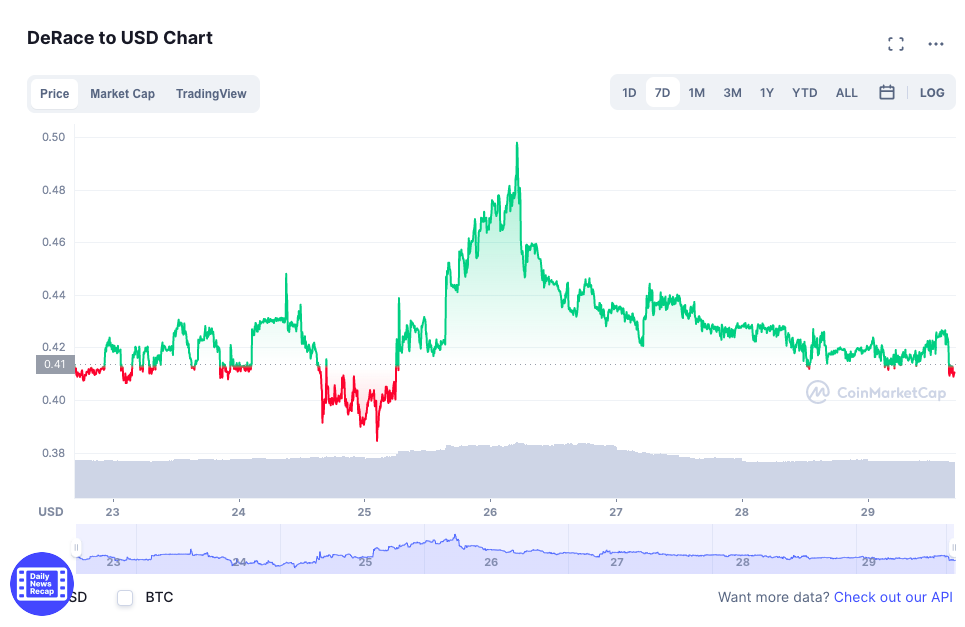 DERC is the native token that fuels the DeRace ecosystem. All in-game transactions can be performed only through DERC. It provides attractive staking rewards for DERC holders who contribute to its liquidity pool. DERC holders also earn governance rights for implementing changes on the platform.
DeRace is the first NFT-based horse racing platform in the world, which is a major factor in its increasing demand.
DERC is currently trading at an attractive price of $0.4187 with a 24-h trading volume of $2,316,611. It has a market cap of $22,711,657. There is a total supply of 120 million DERC coins out of which 54.24 million coins are in circulation.
Your capital is at risk.
7. Altura (ALU)
Altura is a smart contract platform that allows game developers to mint, distribute and transact Smart NFTs. These NFTs will represent in-game items, which could be used across various blockchain gaming platforms. In-game items are a prerequisite for all types of blockchain games.
However, they are difficult to procure and implement. Smart NFTs possess dynamic properties that can be altered based on certain conditions and gaming requirements. They offer a wide range of potential opportunities, which is not the case with traditional NFTs.
ALU is the native utility token that is required for performing all transactions across the Altura Platform. It also provides the holders with voting rights on the governance of the platform.
ALU's current market price is $0.01876 with a trading volume of $214,178. The current market cap of the coin is $11,735,722. The maximum supply of the coin is 990 million with a current circulating supply of 0.62 B coins.
Your capital is at risk.
8. OpenWorld (OPEN)
OpenWorld aims to build an open Metaverse gaming platform wherein players across all gaming platforms can intersect and interact in a balanced circular economy that is based on real monetary flow. The three main aspects of the platform are Gaming, Finance, and Social.
OPEN is the utility token and native game currency for the OpenWorld Metaverse. Players can leverage the digital asset to acquire in-game characters/materials, and trade NFTs on the marketplace.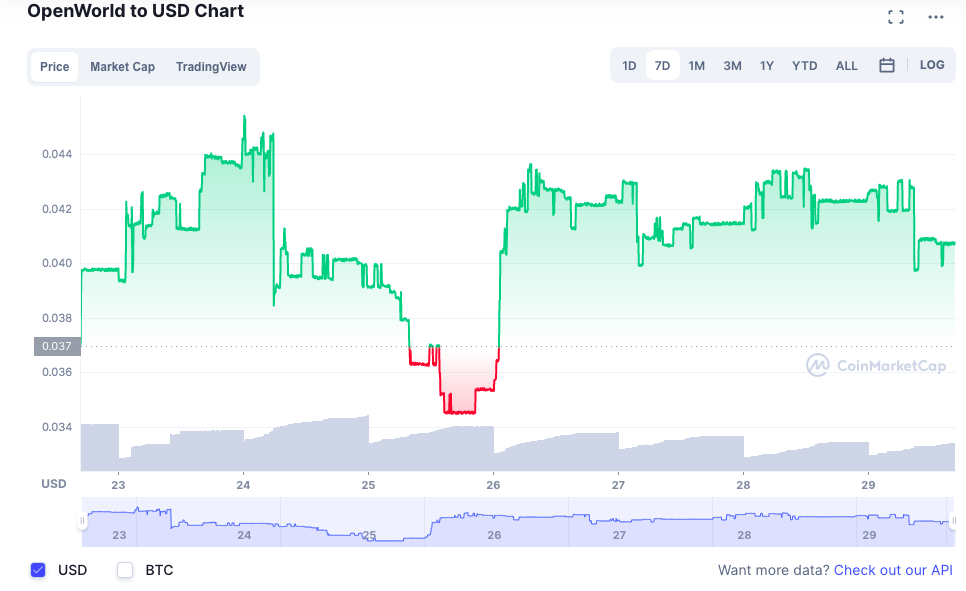 Its current trading price is $0.04 per coin with a market cap of $2,113,009. Its 24h trading volume is $83,221. Its current circulation is 51.61 million coins with a max supply of 100 million coins.
Your capital is at risk.
9. SushiSwap (SUSHI)
SushiSwap is a decentralized cryptocurrency exchange and automated market maker built on Ethereum Blockchain. Users can exchange/trade cryptos with other users without the intervention of centralized exchange. They can make use of smart contracts to create markets for any crypto pair as per their choice.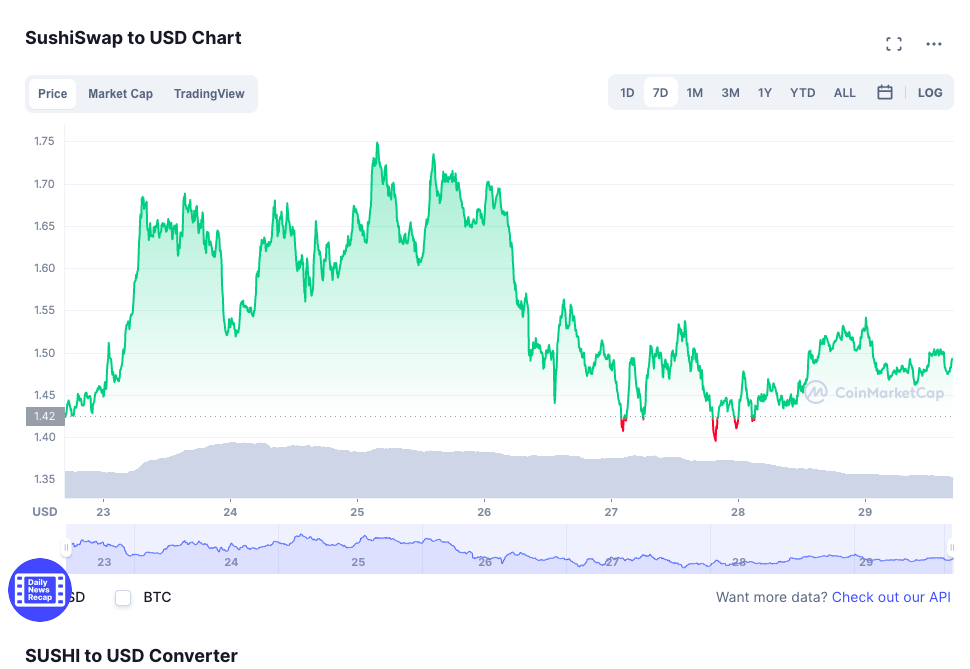 SUSHI is the native token that fuels the platform. Holders of SUSHI can earn governance powers. They can also cast their votes on submitted proposals by other users.
SUSHI is currently trading at a price of $1.49 with a 24-h trading volume of $88,347,284. The market cap of the coin is $190,142,021. The circulating supply is 127.24 million and the max supply is capped at 250 million coins.
Your capital is at risk.
10. FaraLand (FARA)
FaraLand is a play-to-earn multiplayer game built on the Binance Smart Chain (BSC). The game features different NFT warriors, which are equipped with unique in-game materials like weapons, armor, and pets. Players can participate in battles with these NFT creatures to earn rewards and digital collectibles.
FARA is a BEP 20 token that is used throughout the FARALAND ecosystem. It is used for buying in-game equipment, upgrading equipment, earning rewards for in-game actions, and casting voting rights for the governance of the protocol.
Its current market price is $0.1371 with a market cap of $3,556,749. During the last 24 hours, its trading volume was $118,446. Its current circulating supply is 25.90 million coins and the max supply is 100 million coins.
Your capital is at risk.
How to Invest in Metaverse Cryptos?
The leading social trading platform eToro is the way to invest in Metaverse Cryptos. Being highly regulated by the FCA, CySEC, and FCA, it ensures the highest safety of users and their holdings.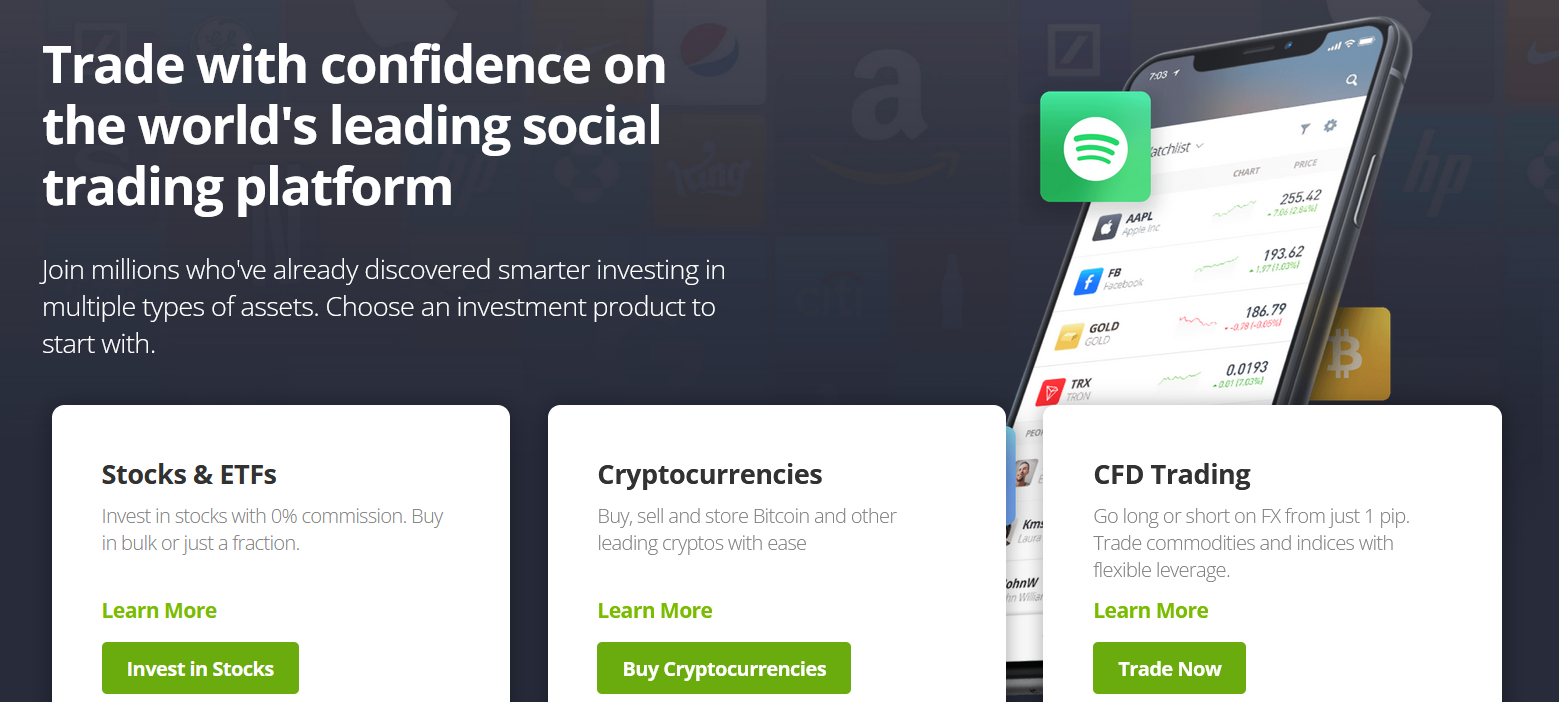 New investors can use its copy trading and copy portfolio features, wherein the trading strategies and portfolio allocation can be copied from successful investors. It has recently introduced its Metaverse Life 'Smart Portfolio' feature, which offers a bundle of Metaverse assets for trading. It consists of some of the best Metaverse Cryptos like MANA, SANDBOX, ENJ, GALA, and more.
Investors can also go for Metaverse NFTs, ETFs, or Metaverse land and buildings.
Your capital is at risk.
Read more:
Lucky Block – Our Recommended Crypto of 2022
New Crypto Games Platform
Featured in Forbes, Nasdaq.com, Yahoo Finance
Worldwide Competitions with Play to Earn Rewards
LBLOCK Token Up 1000%+ From Presale
Listed on Pancakeswap, LBank
Free Tickets to Jackpot Prize Draws for Holders
Passive Income Rewards
10,000 NFTs Minted in 2022 – Now on NFTLaunchpad.com
$1 Million NFT Jackpot in May 2022
Cryptoassets are a highly volatile unregulated investment product. No UK or EU investor protection.